MT4 terminal history data must be always up to date before to start testing a new expert advisor (forex robot). History data contains very important information about the ticks in the past years. Therefor it is so important to have up to date history data. Only this way the Strategy tester can test an expert advisor properly and show accurate results.
Instructions for updating MT4 History Data
1. Open History Center
To open the History Center please go to MT4 terminal Toolbar -> Tools -> History center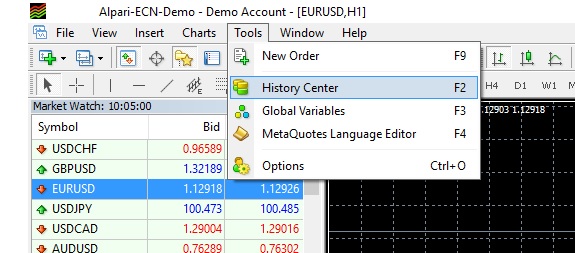 2. Find the symbol (currency pair) you wish to update.
For example EURUSD. You can update any symbol. There are not any restrictions.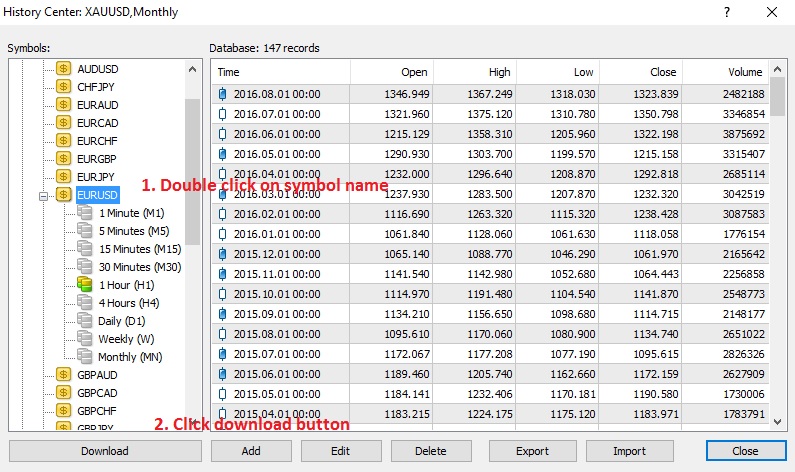 - Double click over the name of the symbol. In our example it is EURUSD
- Click the button download
You have to wait until the history data for your symbol is updating.
IMPORTAN: Updating the history data will take some space from your hard drive. Make sure that you have enough free space.
3. Calculate all time-frames
Once the history data is downloaded successfully you have to calculate/re-calculate all time-frames. This is very important.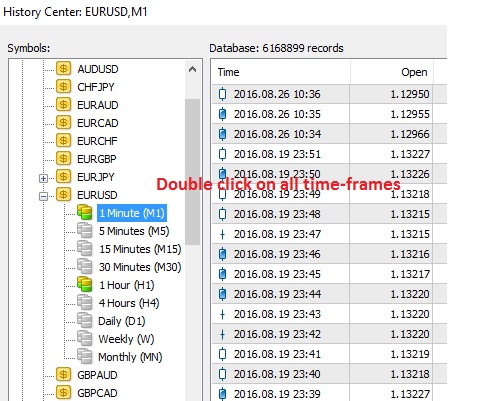 Just double click on all time-frames for your symbol. In our example we double click on all time-frames for EURUSD currency pair. Start with "1 Minute (M1)".
4. Restart the MT4 terminal
After all, steps 1, 2 and 3 you have to restart your MT4 terminal before to open the strategy tester and test your expert advisor.

That's all. We hope that this article will be useful for you.
Leave a comment