WallStreet Recovery PRO is a modified version of WallStreet Forex Robot. The main difference between the two robots is in the way that the opened trades are being managed. WallStreet Forex Robot has a fantasitc option that closes trades in profit. It works well in 90% of the cases. The disadvantage of this option is that when the stop loss levels are low, in some cases, they are hit often. We have managed to fix this disadvantage with the new version of WallStreet Recovery PRO.
How WallStreet Recovery PRO works?
WallStreet Recovery PRO trades the same way as the normal version. It opens the same trades. What's typical for the new version is:
- it does not close in loss
- high stop loss level
- uses additional trade/s for restoring profits
We have developed the robot to not close trades when they are in negative but only when a SL is reached. This way, we guarantee that the robot will not hurry to close a trade due to a false signal. We have set a higher stop loss level. Our goal was to prevent the robot from closing trades during large temporary price movements. This way, we give a chance of the new recovery system to trigger itself and compensate the losing trade. By criteria in the code, the robot opens one trade with a bit higher lot size at the most appropriate moment. This way, thanks to small movements towards the right direction the robot closes all trades in overall profit. You can check out the robot in action below: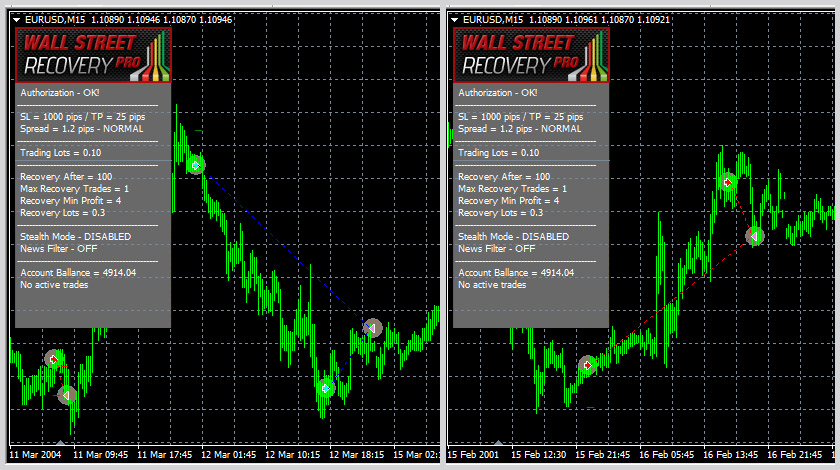 Supported pairs
We recommend to use WallStreet Recovery PRO only on EURUSD and GBPUSD because these pairs are most stable. The robot can be used on the other supported pairs by the regular version. For EURUSD, GBPUSD, USDJPY, AUDUSD and USDCHF the robot has predefined settings. For the other pairs, you have to run your own optimizations, if you intend to use the robot on them.
How to use WallStreet Recovery PRO?
In order to use WallStreet Recovery PRO, a regular WallStreet Forex Robot license is required. If you don't have one, you can purchase from the home page of our wesbite. Our customers can use the WallStreet Recovery PRO completely for free. We would like to remind that all our customers can use completely for free our new additional robots - WallStreet Recovery PRO and WallStreet ASIA.
Is it risky to trade with WallStreet Recovery PRO?
Each forex robot (automated trading system) hides its risks when using it. If a trader uses a very high tradig risk, even the most harmless strategy may causes sufficient damage to his/her account balance. WallStreet Recovery PRO is a bit more riskier in comparison to the normal version of WallStreet Forex Robot because it uses a bit higher lot size and an additional recovery trade. For that reason, we recommend to all our customers to backtest the robot before using it on their real-money accounts.
Leave a comment